Bild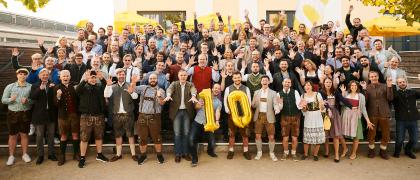 Erstellungsdatum: 24.10.2022
10 years of SMATRICS: Full speed ahead into the electric future!
In just ten years, SMATRICS has become one of the leading international green tech companies for electromobility. Reason enough to take a brief look back, but above all to look ahead.
Leading green tech for e-mobility within just 10 years
The success story began in 2012: Building on the know-how gained from operating the nationwide high-power charging network in Austria, SMATRICS today offers companies, energy suppliers and charging network operators numerous infrastructure, service and IT services along the entire e-mobility value chain.
As a full-service provider and enabler for B2B/B2B2X customers, SMATRICS also founded a joint venture with the German energy company EnBW Energie Baden-Württemberg AG in 2020. The joint company SMATRICS EnBW now owns and operates more than 300 fast charging points (of which almost 100 are HPC charging points) throughout Austria and has already recorded 202,000 charges in the network so far this year with 4.7 million kWh of energy delivered. Today, the green-tech company employs more than 120 committed e-mobilists.
"It takes the contribution of many people to get something this big off the ground in a decade. I would like to thank all those involved, first and foremost our customers and owners, for their trust and our employees for their outstanding performance," said Hauke Hinrichs, Managing Director of SMATRICS, on the occasion of the 10th anniversary of the founding of SMATRICS on 9th of October 2012.
Master Plan Charging Infrastructure 2030 - powered by SMATRICS
SMATRICS has used its anniversary to face the challenges of the future and to give e-mobility further tailwind. To this end, a master plan was presented in mid-October 2022. The Master Plan Charging Infrastructure 2030 outlines the conditions for ideal framework conditions in order to massively and rapidly expand the necessary charging infrastructure.
"Europe and Austria have embarked on the path towards the transition of energy and mobility. SMATRICS will work with full force to ensure that we get there quickly. For this to work, the right conditions are needed to ensure the market ramp-up of the charging infrastructure," says Hinrichs.
VERBUND CEO Strugl: "Vision of a 360° e-mobility service provider implemented in an exemplary manner"
SMATRICS was founded in September 2012 with the participation of VERBUND with the vision of establishing a dense e-charging network in Austria and developing innovative e-mobility products for companies and end customers. Numerous innovative projects and product cooperations between SMATRICS and VERBUND have already been established on the market.
"In the past ten years, SMATRICS has implemented the vision of a 360° e-mobility service provider in an exemplary manner. The SMATRICS and VERBUND offerings complement each other ideally. I look forward to many more years of cooperation," says VERBUND CEO Michael Strugl.
EnBW COO Sillober: "Driving engine for e-mobility"
EnBW has also been on board with SMATRICS as a strategic partner since the end of 2021. The energy company operates the largest public fast charging network in Germany and uses SMATRICS' know-how and expertise in the areas of infrastructure, services and IT. EnBW also offers multiple award-winning charging solutions for end customers.
"SMATRICS offers the appropriate technological solutions that the market needs. Following our successful joint venture for the expansion of the fast charging infrastructure in Austria, we are bundling further competences for product cooperations, especially with regard to the fleet and business customer sector. In this way, we will continue to successfully drive the success of e-mobility together in the future," says Timo Sillober, Chief Sales & Operations Officer at EnBW.