Bild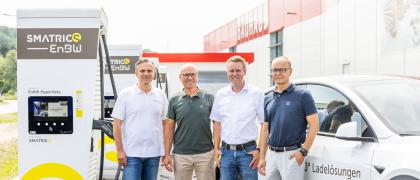 Erstellungsdatum: 26.06.2023
Directly at the A1: New high power chargers at BAUHAUS in St. Pölten
Easy and fast charging is part of the smart shopping experience - charging of electric vehicles is becoming an important success factor for retail locations. BAUHAUS is successfully cooperating with the leading Austrian charging infrastructure operator SMATRICS EnBW. Charging takes place with up to 300 kW.
Smart shopping experiences & high power charging on the A1
SMATRICS EnBW recently started operating public high power charging stations for electric vehicles at the BAUHAUS site in St. Pölten at Mariazellerstraße 180. The site is located directly at the exit St. Pölten Süd on the Westautobahn (A1).
This means that the public charging network of SMATRICS EnBW continues to grow rapidly: In the first phase, e-mobilists will have access to six state-of-the-art High Power Chargers with a capacity of up to 300 kilowatts each. In the final phase, ten HPC chargers will ensure that, depending on the vehicle, electricity for a range of 100 kilometers can be charged in just five minutes.
Like at all its locations, SMATRICS EnBW the new fast-charging site in St. Pölten is operated with 100 percent electricity from renewable sources. E-vehicle owners can simply combine shopping at the BAUHAUS Fachzentrum with a charging stop - the e-car charges quite incidentally.
Strong partnership for e-mobility
The joint BAUHAUS and SMATRICS EnBW site is the first of a larger-scale cooperation between the two partners. In the process, the e-mobility company will equip further BAUHAUS specialist centers with charging infrastructure of the highest performance class in the coming months.
"A strong partnership with companies like BAUHAUS Austria is central to the expansion of fast charging infrastructure," said Thomas Landsbek, CEO of SMATRICS EnBW, which operates Austria's largest high-power charging network. "The successive expansion of fast charging options at attractive retail locations will benefit end customers in particular, including those without a private wallbox at home. This is because they can recharge their vehicle while shopping at the BAUHAUS specialist center for everyday trips over the next 10 - 14 days - and save themselves a trip to the gas station. At the same time, retail companies are thus upgrading their locations and equipping them for the future."
"The further expansion of e-mobility is an important step towards sustainability for BAUHAUS and we are pleased to have found a competent partner with many years of experience in SMATRICS EnBW. In this way, we are not only fit for the future, but also ensure that as many of our customers as possible can take advantage of this offer," says the management of BAUHAUS Austria.