Bild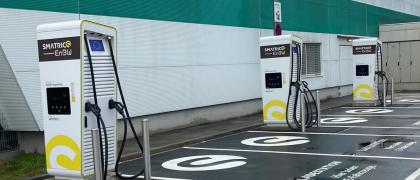 Erstellungsdatum: 31.05.2023
Centrally in the Salzkammergut: New charging stations in Bad Ischl
E-mobility is rising: SMATRICS EnBW, Austria's leading provider of "High Power Charging", has installed three HPC chargers at BILLA in Bad Ischl. As BILLA is part of the REWE Group Austria, SMATICS EnBW is further expanding its cooperation with the trading company.
Efficient & sustainable charging infrastructure for retail
BILLA at Sulzbacherstrasse 41 in Bad Ischl has six state-of-the-art charging points with an output of up to 300 kilowatts now. Depending on the vehicle's input power, you can charge the electricity that is needed for a range of 100 kilometers in just five minutes.
REWE Group Austria has been successfully working together with the leading Austrian e-mobility service provider SMATRICS EnBW for quite a while now, offering e-car drivers the opportunity to conveniently charge electricity for their everyday trips while doing their weekly shopping.
"In the past few years, we have concentrated our expansion efforts primarily on the main traffic routes, but now is the time to improve the charging infrastructure all throughout Austria. As traffic junction in the middle of the Salzkammergut between Wolfgangsee, Traunsee and Hallstätter See, Bad Ischl is an ideal location" explains Hauke Hinrichs, CEO of SMATRICS EnBW.
As at all of its locations, the company also operates their new HPC charging location in Bad Ischl powered by 100 percent electricity from renewable energy sources.
Further expansion: 100 new high-speed charging points by December
By the end of 2023, Austria's e-mobility specialist will build 100 new high-speed charging points with up to 400 kW of power, for example on the Westautobahn and the Semmering Expressway S6. Particularly convenient covered charging hubs are also being created at hotspots, each with at least eight ultra-fast charging points.