Bild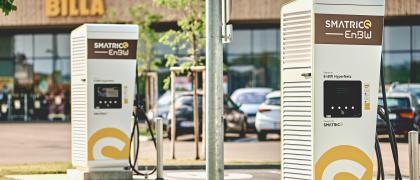 Erstellungsdatum: 22.11.2022
REWE remains SMATRICS EnBW's largest location partner
Convenient and fast charging is part of the smart shopping experience - charging of electric vehicles is becoming an important factor for retail locations. REWE Group Austria has been successfully cooperating with the leading Austrian e-mobility service provider SMATRICS EnBW for some time now.
Within the framework of the cooperation, up to 120 more REWE locations (BILLA, BILLA PLUS, PENNY) will be added to the existing 70 locations by 2025. At least two powerful 300 kW charging stations will be used at each of the locations. REWE Group in Austria is thus enabling sustainable electric charging at its locations with electricity from 100% renewable energies.
Local supplier of e-mobility
With the professional roll-out and technical operation of charging infrastructure, REWE Group Austria is developing into an important "local supplier of e-mobility". End customers benefit from the high-power charging network and trading companies increase their attractiveness and competitiveness. When switching their own company fleets to e-mobility, more and more retail companies are also relying on sustainable and future-proof charging solutions for retail from SMATRICS. 
"We are pleased to be a strong and solution-oriented partner of REWE Group Austria and to create a win-win-win situation through the successive expansion of the charging infrastructure at attractive locations. On the one hand, end customers benefit from more charging options and can securely charge their vehicles while shopping, especially in urban areas.
On the other hand, it benefits the image of the retail companies by enabling charging while shopping," says Managing Director Hauke Hinrichs of SMATRICS and SMATRICS EnBW, the joint venture of SMATRICS and EnBW Energie Baden-Württemberg AG, which operates Austria's largest high-power charging network.
Charging with 100% green energy at 100 locations
By the end of the year, REWE Group Austria aims to offer electric charging with 100% renewable energy at over 100 locations. "We are pleased to have SMATRICS EnBW as a reliable partner at our side, because we see how important the ongoing expansion of the electric charging network is and want to actively drive it forward. The advantages are obvious: we remain fit for the future and increase the attractiveness of our locations," says Robert Nagele, Director of Real Estate at BILLA.