Bild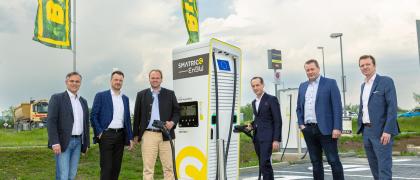 Erstellungsdatum: 17.05.2022
REWE Group Austria is relying on High Power Charging
Together with location partner REWE Group Austria, SMATRICS EnBW is further expanding the country's largest HPC charging network. To this end, the companies have commissioned four new high-power charging stations, along with a battery storage system from VERBUND, in the car park of the BILLA branch in Gerasdorfer Gasse in Wiener Neustadt.
HPC charging stations increase attractiveness of retail locations
With the previously existing fast charging station, e-mobilists can now charge their e-vehicles while shopping at one of ten fast charging points. Throughout Austria, REWE Group now offers 70 charging stations operated by SMATRICS EnBW with 194 normal and fast charging points at various locations.
BILLA in Wiener Neustadt offers its customers a smart shopping experience with the convenient and fast charging option and benefits from a more attractive and competitive location.
Charging options in urban areas
"Especially in urban areas, the supply of e-mobile charging options is essential - more and more people are switching to e-vehicles. The comprehensive expansion of the charging network benefits e-vehicle owners," says Hauke Hinrichs, Managing Director of SMATRICS and SMATRICS EnBW, the joint venture of SMATRICS and EnBW Energie Baden-Württemberg AG. "Supermarket car parks are important locations for charging stations - BILLA in particular welcomes thousands of customers every day who are happy to have more charging options."
Expansion of e-mobility as an important contribution to climate protection
By the end of the year, REWE Group Austria aims to offer e-mobile charging with 100 per cent renewable energy at over 100 locations. "We are pleased to have SMATRICS EnBW as a reliable partner at our side, because we see how important the ongoing expansion of the e-mobile charging network is and want to actively promote it. The advantages are obvious: we remain fit for the future and increase the attractiveness of our locations," says Robert Nagele, Director of Real Estate at BILLA.
Location partnerships as an opportunity for retailers
SMATRICS EnBW is currently investing more in additional location partnerships. "A location partnership is a win-win-win situation for end customers, retailers and the expansion of our SMATRICS EnBW HyperNetwork," says Hauke Hinrichs. "The topic of e-mobility is also becoming more and more important to them.
At the same time, SMATRICS EnBW is continuing to search for additional partners & looking for properties to drive forward the expansion of the largest nationwide charging network.