Bild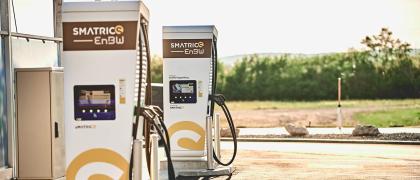 Erstellungsdatum: 21.02.2023
SMATRICS is no. 1 in network coverage thanks to roaming partners
Strong roaming partnerships are an important cornerstone of the SMATRICS recipe for success. With just one charging card, SMATRICS customers can now access around 15,000 public charging points in Austria thanks to the expansion of the roaming partner network. Across Europe, more than 120,000 charging points are available to customers.
Network coverage for charging infrastructure
The number of e-vehicles in Austria continues to rise: At the turn of the year 2022/2023, more than 110,000 purely electrically powered cars were on the road in Austria. To ensure that e-drivers can charge as easily and conveniently as possible, even on long-distance and international journeys, Austria's e-mobility specialist SMATRICS is expanding its roaming network. 
Salzburg AG is a new member of the SMATRICS roaming network. This means that all Austrian provincial energy suppliers are now part of the roaming network. Other new additions include charging stations of the Austrian charging providers da emobil and ELLA as well as the Austrian motorists' club ÖAMTC.
Roaming instead of direct payment
"The SMATRICS charging card is becoming the Swiss Army Knife of e-mobility in Austria," says SMATRICS CEO Hauke Hinrichs: currently 15,000 charging points are available in Austria with just one charging card or the SMATRICS app, which corresponds to more than 90% coverage in Austria.
"Contract-based charging with roaming is and remains the simplest and most important billing option. We have therefore pursued the topic with vigour and are proud to have the charging offer with the highest coverage of all charging providers in Austria," emphasises CEO Hauke Hinrichs.