Bild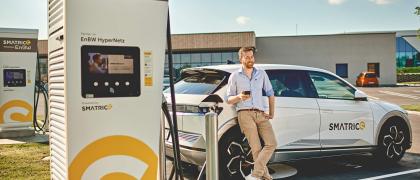 Erstellungsdatum: 02.02.2023
High-Power Charging network from SMATRICS EnBW grows rapidly
The public charging network of SMATRICS EnBW is growing rapidly: By the end of 2023, Austria's e-mobility specialist will build 100 new High Power Charging points with up to 300 kW capacity. 
The ultra-fast charging stations make it possible to charge electricity for 100 kilometres of driving in less than five minutes. Charging is becoming increasingly convenient: the expansion programme includes partly covered charging hubs with at least eight charging points each.
Focus on expansion along the Westautobahn and A6 motorways
Austria's largest nationwide HPC charging network continues to expand. "The expansion of e-mobility continues at high speed - and we are far from finished," promises Hauke Hinrichs, CFO of SMATRICS EnBW.
A huge fast-charging park with 20 charging points will soon be built on the A1 Westautobahn at the St. Pölten Süd junction near the new Bauhaus market, and further fast-charging hubs are being planned along the A1. E-mobilists can also expect new fast-charging facilities on the Semmering motorway S6 near Semmering and near Spielberg.
Turbo boost for charging infrastructure
SMATRICS EnBW is also investing in new infrastructure away from main motorway routes. Fast charging stations are planned, for example, in the Salzkammergut region (Bad Ischl) and in Haus im Ennstal.
In 2023, new fast charging facilities will also be put into operation in Vienna, Carinthia, Burgenland and Upper Austria. In Carinthia, a charging park with 12 high-performance charging points will be opened by the summer at the Sonnenkraft Campus on the S37 near St. Veit/Glan.
Growth market e-mobility
With this commitment, SMATRICS EnBW is also expanding the European EnBW HyperNetz for e-drivers in Austria with high power charging points of the highest performance class. E-mobility is on the rise in Austria: every sixth newly registered car is electric. The charging infrastructure is essential for this continuous growth.
"Our goal is to have the best locations with the highest charging speed and excellent service quality," says Hinrichs. To this end, new location partnerships have been concluded with retail chains and mineral oil companies.
Despite the expansion, the electricity mix at the charging stations remains unchanged: With 100% renewable energy from VERBUND, the focus is on sustainability. SMATRICS EnBW is also looking for land for the construction of charging hubs and invites innovative companies to location partnerships.