Bild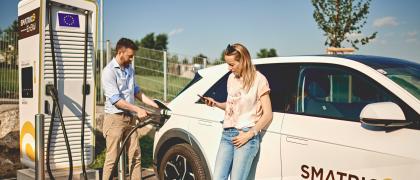 Erstellungsdatum: 12.04.2023
83 tons of CO2 avoided: Easter record in the SMATRICS EnBW charging network
The heavy tourist traffic on the Easter weekend also brought a record in terms of e-mobility. Significant increases compared to the previous year were recorded in the area-wide high-power charging network operated by SMATRICS EnBW.
From Good Friday to Easter Monday, almost twice as much electricity was charged across Austria compared to the previous year (+82 percent).
Strong growth in roaming & charging at HPC charging points
On the traditionally busy Easter weekend, not only many of the approximately 120,000 Austrian electric cars were on the road, but also many visitors who charged via roaming.
The Austria-wide HPC charging network of SMATRICS EnBW has been significantly expanded in recent years, especially on the main traffic routes. This comes with success: almost twice as many kilowatt hours were charged at over 110 HPC charging points in the course of the four Easter days as in the previous year.
The SMATRICS charging sessions on Easter weekend alone covered around 667,000 kilometers by car in an environmentally friendly manner. This corresponds to a CO2 saving of more than 83,350 kilograms.
"Thanks to the dense network coverage, e-mobility has become suitable for everyday use. Our charging stations were in full swing over the Easter weekend. This is good news for e-mobility, but above all good news for the climate," explains SMATRICS CEO Hauke Hinrichs.
Further expansion: 100 new high-speed charging points by December
There were no overloads at charging stations over the Easter weekend. The further expansion of the SMATRICS EnBW charging network is still on the way: Austria's e-mobility specialist will build 100 new high-speed charging points with up to 400 kW of power by the end of 2023, for example on the Westautobahn and the Semmering expressway S6.
The ultra-fast charging stations make it possible to charge electricity for a 100-kilometer journey in less than five minutes. Particularly convenient covered charging hubs, each with at least eight charging points, are also being created at hotspots.